Arete Strength: The #1 Specialty Strength Training Center Where Athletes Go To Learn Advanced Sport Specific Strength Training, Biomechanical Core Development, Advanced Sports Nutrition, and Proper Recovery Techniques.

Arete Strength is the leading specialty strength training venue for athletes seeking better sports performance, and home to Arete Throws Nation for Shot Put and Discus throwers.
An ancient Greek word, Arete means attaining one's maximum human potential. This need for utilization of various sports specific strength training methods and training programs to facilitate development of one's speed and strength was acknowledged by Head Coach, Erik Johnson, who built Arete Strength in Capistrano Beach, located between San Clemente and Dana point in Orange County, California.
"The man at the top of the mountain didn't fall there" – V. Lombardi
Arete Strength's primary objective is to enable its athletes to realize their full potential for in their given sports; whether they are in high school, college, or professional sports leagues. Arete Strength also focuses on developing efficient biomechanical core strength, and includes an advanced sports nutrition program.  These two factors should always go together, as results are significantly affected if the both are not fully adddressed EQUALLY.
Here are four STEPS Arete Strength always takes into consideration in all the programs they conduct:
STEP #1 – ELIMINATE LIMITATIONS: Assessment and Identifications of Structural Imbalances and Deficiencies Prior to Training
Arete focuses on taking the athletes physical strength to its maximum potential, by taking the time to determine which physical factors affect the development of one's speed and sports abilities. Given such, Arete Strength begins every training program with a thorough Posture and Functional Movement Screen (FMS) to identify imbalances, and nutritional deficiencies in the body. Trainees are required to undergo different tests to figure out what is needed to help develop their maximum strength.
STEP #2 – Specialized Sport Performance & Strength Training Based on the Athlete and Goal
Once the results of the FMS are documented, the experts at Arete Strength create programs that would complement their athlete's strengths, and solve the athlete's needs to develop their core potential. Arete Strength provides maximum assistance to help each of its athletes reach his/her individual goals. We provide coaching to athletes in and around Orange County, California: Dana Point, Laguna Niguel, San Juan Capistrano,Mission Viejo, Irvine, Fullerton, San Clemente, Los Angeles, San Diego, and Riverside.  We also coach athletes that are out of state: Arizona, Oregon, Washington, Colorado, Illinios, and Texas….even out of the country: Canada!
STEP#3 – Advanced Sports Nutrition for Maximum Results
Headed by Coach Erik Johnson's wife Jennifer Johnson CN, CRN, CSN, and Specialist with Food Intolerance/ Allergies, every athlete nneds to put as much dedication, sacrifice, and education towards his nutritional needs as is done in the weight room and on the field.  Athletes are high performance machines, and therefore, require high performance fuel in order to maximize strength, speed, reaction time and recovery.  Arete Nation Athletes have the opportunity to have specialized labs done in regards to the internal health of the digestive system for absolute maximum potential and superior training quality.  This is professional level services, and our results speak for themselves!
STEP #4 – Expert Guidance to Maintain Exceptional Results
"ARETE NATION ATHLETES BECOME STUDENTS OF THEIR SPORT"- Coach Erik Johnson.  Arete athletes are not just lead through a generic training program that has no real function, thought, or purpose.  We absolutely will not treat a strength training program as a "one-size-fits- all" style.  How can you train a football player with a diver and a volleyball player in the same way, with the same weight program and get individual results? The only thing they will all achieve the same is inferior strength, slow reaction times, and injuries.  Arete Nation Athltes get an education on how to continue their strength training program beyond the walls of Arete, how to recover efficiently and quickly, how to support threir sport perfomance needs with advanced sports nutrition, how to quickly recover from an injury, and how to PROPERLY EXECUTE OLYMPIC LIFTS for maximum strength gains and quick reaction times.
We are home to the #1 specialists in Discus Throw & Shot Put Training in Orange County, Ca
We are home to the #1 specialists in Discus Throw & Shot Put Training in Orange County, Ca
Arete Nation Track and Field throwers are the top ranking athletes in the state, and some in the country! Coach Erik Johnson is a specialist in strength training and coaching the techincally demanding sport of discus and shot put.  Whether you live in southern California or not, Arete Strength has coached each and every thrower to improve every aspect of the throws, increasing PRs, correcting imbalances and techniques, and assisting talented athletes to receive scholarships to some of the best Universities in the country. Visit Arete Strength in Capistrano Beach, Ca, just north of San Clemente on Pacific coast Hwy in beautiful South Orange County, and experience the results of our elite strength and performance specialty program for yourself.
The Arete Strength Sports Performance Difference…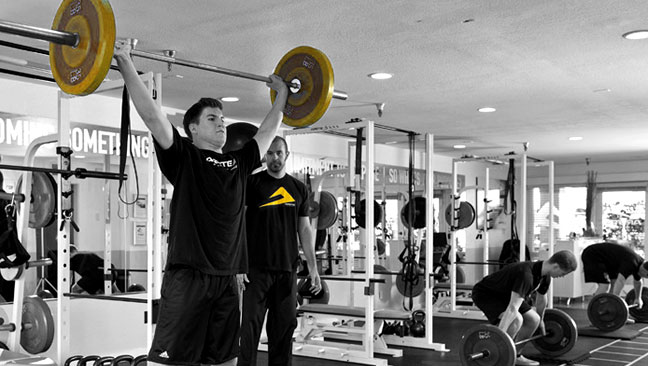 Loosely translated from Ancient Greek, Arete means: Attaining one's Maximum Human potential.
Erik and Jennifer Johnson are the co-owners of Arete Strength located at 28062 Forbes Rd Laguna Niguel in Orange County, California and 22150 N 20th Street #101, Phoenix, Az