You have entered the territory of Arete Nation.  If you are searching for a powerful strength training program to maximize your sports performance, your search is over.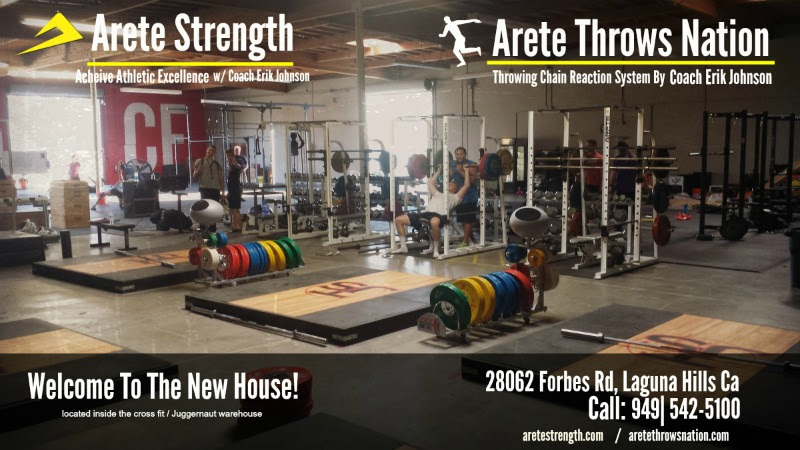 When an Arete Strength athlete is asked, "What level do you want to achieve?", an AreteAthlete answers, "THE HIGHEST DAMN LEVEL HUMANLY POSSIBLE!".  At Arete Strength, we train athletes who want to achieve greatness, and understand hard work, sacrifice, and dedication are the key factors to getting there.  Our strength training is demanding.  Technical accuracy in Olympic lifts from our athletes is mandatory.  Pain is part of the game, and breakdowns- physically and mentally- happen, but from the sweat and hard work come major increases in strength, not only in the weight room, but in competition; PRs are inevitable.
Arete Strength is the #1 strength training center in Orange County, Ca.

Orange County's #1 Strength Training & Sports Performance Program!   
Arete Strength athletes develop maximum sport specific strength, and improve athletic performance, guaranteed.  Arete athletes are dominating in competitions around the country, and our Arete Nation of athletes keeps growing bigger. Our athletes come to us from Orange County, San Diego, the Inland Empire, Los Angeles, Palm Desert, and from out of state: Colorado, Arizona, Texas, Washington, Illinois….even out of the country-Canada, ey!
Arete Strength attracts athletes who strive for more, who commit to a higher standard, and sacrifice to achieve ARETE.  Our specialized strength training and sport specific strength training empowers the massive success of our athletes, and the results speak for themselves.
Since 2010, we have proven that our specialized, scientific, and personalized strength training programs maximize sport performance and training quality.
At Arete Strength, we coach athletes who demand more from their strength training program, and want to harness the power that proper lifting and training techniques offer.  Many of our athletes have busted their @$$ to achieve state championships, and scholarships, and are now competing at the college level.  Others have come with set goals of competingat the professional, or Olympic level, and are committed to doing it.
We achieve goals, not dreams;
dreams are what you do when you are sleeping.
Arete Strength is not just another strength training place, but an elite nation of hard working athletes who receive the tools and structure to achieve the success they desire.
Orange County's #1 Specialty Strength Training Program For Athletes!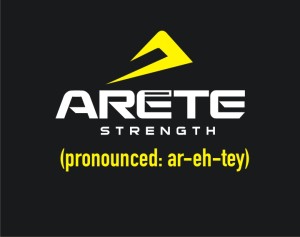 Since 2010, Arete Strength has successfully developed athletes to excel in their chosen sports by identifying their individual athletic limitations, strength imbalances, and nutritional deficits.  Correcting these factors greatly affects performance—maximum speed, explosive strength, and movement ability; hence they become champions.
Arete Strength's specialty strength training programs have locked down College scholarships for several of its high school athletes in track and field – discus and shot, baseball, volleyball, basketball, hockey, soccer, lacrosse, water polo, and football; as well as preferred walk-on positions at top universities.
Arete Strength has turned dozens of average student athletes into varsity standouts, and helped varsity standouts realize their goal of becoming a collegiate athlete.
"Most of the time what keeps an athlete from achieving success is in the details, and it is the details that I'm obsessed with the most"
– Coach Erik Johnson, founder/ Head Coach
Arete Strength has quickly become one of the most sought after specialty strength training programs in the country; especially for Coach Erik Johnson's highly technical and specialized explosive strength program for Discus and shot put training athletes in Track and Field throws.
Our strength training program uses the same Sports Science knowledge used by the world's top sport scientists and strength training gurus in the world. This Olympic and Professional coaching level gives our athletes 5 competitive advantages:
Strength Training for maximum Sports Performance

Competitive Advantage #1: Strength Training for Explosive power
Avoid the trap of training purely for "Big Numbers". Great, you can bench 250kg, and how is that going to translate to your sport performance?  How fast you can move weight is more important than moving a lot of weight slowly. By learning which lifts make the most significant impact on the nervous system, you will develop usable strength to create the biggest impact and performance improvement for your specific sport.
Competitive Advantage #2: Sport-Specific Strength Training
Movements that mimic your sport's movements, and training the specific muscles you use most are critical parts of an elite strength training program. Arete Athletes dominate their competition because they strength train to improve movement performance, not just weight room numbers. Learn which sports specific movements are the game changers for you.
Competitive Advantage #3: Cutting edge Sports Nutrition
If you are spending hours training hard in the weight room, and on the athletic field, you'd better be eating like an elite athlete in training. Low performance "foods" equal low performance bodies, and deplete performance.  It's not rocket science; it's just basic human biology. Learn what a strength and power enhancing meal is, how to time meals for maximum performance, nutrition periodization for optimum sports nutrition, and what super foods and supplements can maximize sports performance to take your ability to new heights.
Competitive Advantage #4: Comprehensive Assessment
The biggest obstacles standing in the way of every strength training athlete is identifying areas for improvement, and these obstacles will prevent you from reaching your true athletic potential. We analyze your movement, posture, body fat composition, and to figure out which factors limit your athletic performance
* Prices vary on type of membership you choose to enroll in. Each membership varies by frequency of training session within each month.  High attendance each week results in bigger gains in sports performance and PRs.