Are you in top condition for the ice? Build endurance and explosiveness for better speed, strength and stamina.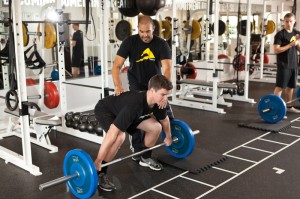 Hockey players have to be well conditioned athletes. The sport requires power, agility, speed, and flexibility. Don't get left behind in the rink.
We give hockey players ability to become something greater. If it's the power needed for a wicked slap shot, the quickness to avoid a nasty cross-check or the energy to sprint across the ice on a breakaway, Arete Strength's training system can enable record setting performances. Every single game.
Become an elite Hockey Player with Arete Strength's training program:
Add the right type of power movements that build balanced power for greater sprint speed
Increase physical strength & agility to play dominant defense.
Apply nutrition and supplementation that improves recovery and game endurance
Use little know skill work that increases shooting accuracy and control on the ice.
Discover position specific exercise and sports specific movement for hockey.
We are conveniently located in Capistrano Beach (Dana Point), CA for hockey players in San Clemente, Dana Point, San Juan Capistrano, Laguna Niguel, Mission Viejo, Lake Forest, and Irvine.
Sign up for a FREE needs analysis and take your game to the next level and position yourself as a top college recruit. If you've got talent, we'll maximize it. Guaranteed!

(949)542-5100 or Contact Us by Email