Looking for real, measurable and repeatable gains in training that transfer to the ring?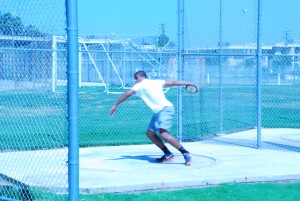 There is one thing that, once learned, will finally give you breakthrough performance – every single throw. This one thing is the cornerstone of "elite" college and professional athletic training programs that local "sport training"  and "factory fitness" programs just aren't equipped for.
They don't have the knowledge background. They don't have the properly trained and experienced staff for it. And the result is that you, the thrower, are left behind with a knowledge gap.
At Arete we help Shot Putters and Disucs throwers remove the "glass ceiling" that limits the ability to Become Something Greater.
Using in-depth testing techniques, we gather the information necessary to move towards breakthrough performance on the field. Our 7 component system will allow a thrower to produce consistent breakthrough performance. No matter what conditions exist….Every single throw.
Does the following kind of advice and thinking sound familiar?
"Lifting heavier weight will improve performance strength in the ring"
"Intense plyometric training sessions will improve explosiveness"
"Gaining Mass and strength is the key to Throwing Farther"
 Strength & Throws Training For Shot Putter's & Discus Throwers
Approach training from a holistic standpoint and start understanding why things happen.
Learn the lifts that develop explosive power and dynamic strength.
Discover the 8 secrets to create consistency in the ring.
Develop powerful core strength that's essential and specific to throwers
Incorporate the drills, weight training, nutrition, and recovery for elite throwing ability.
Video Analysis of your throws and weight training that the naked eye can't pick up live.
Whether your throws specialty is shotput, discus, javelin, or hammer. We'll show you how our IPT7 system can massive PR's in a matter of months
T&F Jumps – Increase speed on the runway and maximize vertical & linear power
At Arete Strength, we are a team of sports motions professionals collaborating for the benefit of the track and field jumper. We are able to customize our services to provide athletic results to all levels of competitors, including youths, high school athletes, college athletes, and professionals!
To reap the many benefits of sports motion training, including the speed at which you run and the height at which you jump, consider joining our integrated sports performance program. The track and field jumper will have need of specific analysis, such as the ways that the muscles of the legs work together to provide speed and efficiency in the running motion. The running mechanism equips the jumper to perform individual jumps on the track with greater efficiency while reducing the risk of injury.
The Arete membership will benefit the track and field competitor or team at any level of competition with more than just sports motion analysis. Our team of experts also furnishes the athlete with a custom plan consisting of components such as nutrition, supplementation, and lifestyle management. These recommendations will be adjusted at any time based on the athlete's condition.
For the serious track and field jumper, Arete can help:
Improve Speed, Strength, and Agility
Develop a faster stride
Change your jumping aerodynamics
Build endurance for quicker sprints
Clear the bar higher as you jump
Increase your vertical jump
 Track Sprints – Will you lose your burst of speed in the last few meters?
Sprinting is a specialized skill that requires the athlete to focus on the economy of every movement. If there are only 100 meters standing between the sprinter and the finish line, every motion counts.
It makes sense to trust Arete sports motions professionals to analyze the track and field sprinter's overall performance. We are proud that our programs benefit all levels of sprinters, including youths, high schoolers, college athletes, and professional sprinters! We have the capacity to help individuals and teams of track stars!
A sprinter needs a comprehensive program to ensure that the body as an athletic machine is primed and optimized for superior athletic performance. For example, the athlete needs to ensure that the muscles of the legs are very strong and that cardiovascular performance provides maximum oxygenation to leg muscles.
With efficient running and breathing, a sprinter can get more performance from the same muscles. Then there is the matter of speed. Our professionals study how an athlete runs and suggest exercises that will improve the runner's motion, resulting in better meet times!
Arete offers more than just training. Our program includes nutrition planning, supplementation, and lifestyle management. Our staff recommendations are adjusted for each client throughout the year.
For the serious track and field sprinter, Arete can also help:
Improve Speed, Strength, and Agility
Increase the speed at which you start off
Build momentum as you approach the finish
Analyze your gait
Lengthen your stride
Pump your legs higher and with greater frequency
 Sign up for a Complimentary Session with Coach Erik and take your game to the next level and position yourself as a top college recruit.- If you've got talent, we'll maximize it.  Guaranteed!  (949)542-5100 or Contact Us by Email.