One on One & Group Training for Men, Women &
Athletes from High School to Pro
There is an abundance of information, products and resources that all promise to help athletes get stronger, faster, and more explosive achieve their potential out there, on the market, and the web.   We are happy you just happened to land here today.  At Arete, we like to think of ourselves as advocates for athletes of all ages and for parents of young athletes to show them there is a better way.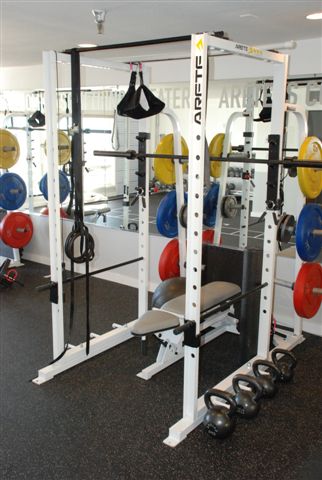 Arete comes from ancient Greece and means "To Achieve Your Maximum Potential in all Areas of Your Life"
This is our goal at Arete Strength, to help athletes of all ages reach their maximum potential through the most effective athletic performance methods available today. We look at the mechanics, hormone profile, and sport specific demands that shape the unique potential of every athlete and we maximize it through professional coaching, biomechanically correct strength training, cutting edge sports science and prevention, nutrition and unparalleled service and encouragement.
Arete is run by Coach Erik Johnson a former NCAA All-American Discus thrower, multiple US Championships competitor, and Olympic Track & Field Trails Finalist.  As an athlete he knows the demands and the levels of competition and has backed that with experience, study, research and science.  Coach Erik has created a premier ocean front location in Capo Beach, Orange County for athletes and busy professionals to have access to elite coaching and strength training to reach their peak performance and personal health and fitness goals.
We often find the athletes we work with were working hard, but missing a lot of the key details to take them to the next level. These details often mean the difference between being a solid athlete and an athlete that is the MVP of their team, and taking their career to the next level. Coach ErIk and the Arete method assess what's missing for athletes and provides the essentials that will make all the difference in their performance.   Giving you the edge is what makes us special…
You can learn more about our Programs for Athletes by CLICKING HERE
You can learn more about the Services that make us truly different by CLICKING HERE
Or you can find what is missing in your game with out FREE no obligation analysis by calling us today.  What you find out may improve your performance on the spot!
Phone :  (949)542-5100    CONTACT US BY EMAIL
Coach Erik